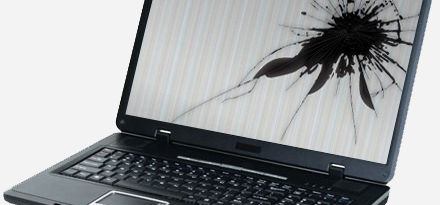 As part of our computer repair services, we offer a complete laptop screen repair service.
If you have a broken, damaged, cracked, shattered, smashed or faulty laptop screen we can repair this for you.
We can repair broken displays on most makes and models of laptop.  This includes HP, Compaq, Dell, Sony, Acer, Toshiba, Asus, Lenovo, Samsung, MSI and many more.
Our repairs are cost effective, and we'll replace it with a quality replacement where the screen quality and resolution will be the same as the original, and all the fittings will be replaced as they were before the repair.
We provide a quick repair service, usually completed within a couple of days, and sometimes the same day.
As part of this our laptop repair service, we offer free collection and delivery.  We'll collect your laptop at a time to suit you, repair it, and deliver it back for no additional cost.
Also, it's worth remembering that many household and home insurance policies will be able to cover the cost of this type of repair.  We recommend that you check with your insurance provider to see if you can make a claim to cover the cost of your laptop repair.  Even if you're not covered, we are sure that you will be pleasantly surprised with our repair cost.
Please contact us providing the make and model of your laptop so that we can provide you with pricing, and arrange your laptop screen repair.
Caversham Computers – 0118 321 3562
contact@cavershamcomputers.com