Data Wiping & Computer Recycling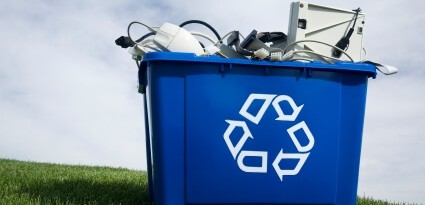 Wondering how to dispose of your old computer?
You must consider your sensitive data before getting rid of a computer, laptop, external hard drive or other device. Many people don't realise that previously deleted files can be recovered, or sensitive data can be obtained from your old computer if it is not properly disposed of.  Data stored on devices can include documents, photographs, emails, and other financial, business or personal details.
Caversham Computers can provide data wiping and secure disposal & recycling services for computers, hard drives, mobile devices, USB sticks and other media.
Sensitive information is erased from all storage devices to British Government CESG Wiping Standards, either to baseline or enhanced Infosec Standard 5.  We can recommend the best standard to be used for erasing your device depnding on the device and what data it may contain.
Certified data wiping and data destruction in the UK is overseen by the Communications-Electronics Security Group (CESG) which is the UK Government's National Technical Authority for Information Assurance. CESG establish the security specifications which are detailed in the Her Majesties Government (HMG) Infosec Standards and they also carry out product evaluations and give approvals for software and physical data destruction products. The UK Ministry of Defence (MOD) also sets minimum standards for the wiping / destruction of its sensitive data.
A certificate of data destruction is provided for all data wiping services performed by Caversham Computers, which details the device that has been wiped, as well as the standard it has been erased to.
What do to with your old computer?
With computers becoming an indispensable part of every household, business or institution in this modern era of information technology, taking care of the safe disposal of these used machines has become a major issue over the years. The boom of the internet and the reduced cost of computers and related IT equipment have encouraged both individuals and businesses to buy and own multiple computers and laptops. This in turn has led to a high increase in the number of these devices worldwide, leading to more devices requiring wiping, disposal and recycling.
Proper disposal of this IT equipment requires an efficient and secure disposal service system that can disassemble and segregate all the individual machine components of computers and other IT equipment.  These spare parts then can either be recycled or reused where possible.
After your computer or other device has been securely erased, Caversham Computers will arrange for it to be recycled in a responsible manner in line with Waste Electrical and Electronic Equipment recycling (WEEE) requirements.
What devices can you wipe and securely dispose of?
Caversham Computers can securely erase and dispose of desktop computers, laptops, Apple iMacs and Macbooks, tablets, hard drives, USB memory sticks, memory cards,  iPads, iPhones, as well as most other mobile phones and tablets.  We can also arrange collection of peripheral devices such as monitors, keyboards, mice and other items during collection of your old computer which can then be processed for recycling.
Arrange collection of your old computer for disposal & recycling
Contact Caversham Computers to arrange a secure disposal service for your computer, hard drive or other device. We are able to arrange collection of equipment for data destruction and disposal from your home or business. A certificate of data destruction will be supplied to you shortly after collection, once the work has been carried out.