Windows 8, is the start button coming back?

If you've moved to Windows 8, or are thinking of moving up to it, you may be put off but the Windows 8 "metro" interface, as there is no regular start button, and many customers have found the Windows 8 tiles start screen cumbersome and difficult to use, especially when they are used to working with a normal start button, start menu and desktop, such as in Windows 7 or Windows XP.
If you're using Windows 8 at the moment and struggling, Caversham Computers can help you by setting up your desktop computer or laptop with a Windows 7 style classic start menu.
However, it looks Microsoft may be having a re-think due to customer feedback and it seems that the Start Menu will likely be available in a second update to Windows 8.1 currently scheduled for August. Microsoft's Terry Myerson, head of Windows and Xbox software demonstrated a prototype earlier this month of what the Start Menu may look like once it's available. It looks like a hybrid of the old Windows 7 Start Menu mixed in with some Windows 8 Live Tiles along one side.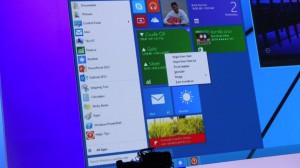 Myerson has also revealed that Microsoft will allow Windows 8-style "Metro" apps to run in the desktop environment inside their own windows, rather than full screen.
While Microsoft is expected to deliver the true windowing type of functionality in a "Windows 9" release next year, sources note that the company is pushing to try and get this ready for the second update to Windows 8.1 in August. Both the Start Menu and windowed apps could be pushed to the bigger "Windows 9" release, currently codenamed Threshold, but the current plan is to deliver these changes as soon as possible.
If you're having issues with Windows 8, please do contact us at Caversham Computers and we'd be delighted to assist you.