Microsoft has announced the next version of its Windows operating system: Windows 10 which will supersede the current Windows 8 and 8.1 operating systems.
The name is definitely not in line with what you might expect, whatever happened with Windows 9, and will Windows 10 be the name at final launch? We shall have to wait and see.
Microsoft has launched a Windows Insider Program that will gives users who are comfortable with running very early releases of beta software access to Windows 10. This first preview is available for download for laptops and desktops. Microsoft says the idea is to open up the beta process to get more feedback from users early on, but also stated that this will be a learning experience for the company too, and that some experiments users will get to try in new builds may not make it into the final version.
Windows 10 will have a tailored user experience between different screen sizes on difference devices, so that if you are on a smaller device, you will see a different sort of user interface. The code will run across all device types with the idea of "One product family. One platform. One store."
Windows 10 will bring back a few much loved features of Windows 7, including a redesigned start menu that combines the current basic Windows 7 menu with the (resizable) tiles of the newer Windows 8 start screen. Windows 8 Metro apps can now also open in a windowed mode on the desktop, so you aren't stuck with the full-screen mode by default and you can use a "modern" Windows 8 application side by side with a standard Windows desktop app too.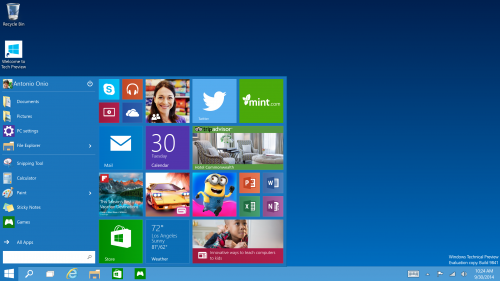 Windows 10 will allow users to work with multiple desktops on the same computer or device. Microsoft's new "Snap Assist" user interface means that Windows 10 is making it easier for these power users who need these multiple desktops to grab apps from multiple desktops and move them around.
If you'd like to try the Windows 10 Beta you can download it here.