Still running Windows XP, Office 2003?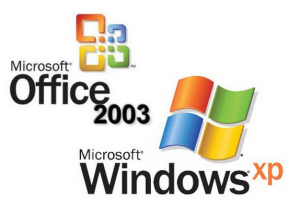 End of Microsoft Support for Windows XP, Server 2003 & Office 2003
On April 8th 2014 Microsoft will stop supporting Windows XP and Windows Server 2003. For those of you still working with these older operating systems, this may come as a surprise, but from that date, there will be no further Windows updates and no more support from Microsoft.
Why?
Software companies can't continue to support their products indefinitely.  At some point keeping decades-old software protected against increasingly smarter hackers, for the tiny proportion of people still using it becomes untenable.
Microsoft guarantee continued support and service for a minimum of 10 years for their operating systems  It may not seem like it but Windows XP was actually launched in 2001.
What Does This Mean?
From the 8th April 2014 Microsoft will issue no more updates to the following operating systems:
Windows XP (for PC workstations)
Windows Server 2003  (for servers)
Microsoft Office 2003 (Word, PowerPoint, Excel etc.)
That includes security fixes and updates – any new vulnerabilities and security holes that are discovered will not be fixed on these operating systems.
As a result, any machines still running these operating systems will be under threat. If you're not sure what version of Windows your PC is running click here to find out.
If your business is still running computers with Windows XP, servers with Server 2003, or you're using Office 2003 (Word, PowerPoint, Excel etc.) then we highly recommend upgrading, to ensure that you're up to date and protected from future threats.
What To Do Next?
Don't panic, we're here to help you and your business!
Migrating to newer operating systems is relatively simple.  Whether you want to upgrade to Windows 7 or 8, or you want to move to something completely different, give us a call on 0118 321 3562 and we will be happy to have a chat with you.
Alternatively you can send us an email at contact@cavershamcomputers.com and we'll get back to you.
If you're a business we'd be happy to pop in for a chat too!