Spyware, Cleaning & Removal Services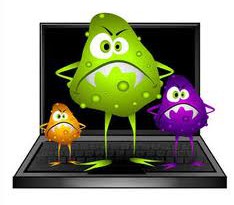 These days, however careful you may be, and whatever antivirus and computer protection software you use, sometimes our computers can still unexpectedly become infected with spyware, malware or other unwanted software.  This can infect your computer during installation of seeming innocent software, where adware is bundled inside the installation for many freeware applications.  It can also come via infected web sites, and even emails.  Even if you're protected with anti virus software they can sometimes still circumvent this.
How do you know you're infected with adware, spyware or other rogue software? Does your computer have pop up messages hi-jacking your screen, adverts appearing in unusual places, flashing messages and other advertisements loading in front and behind the applications that you are using?  Are the adverts of an adult nature, offer claims to speed up your computer, clean the the computer or offer online casinos and gambling?
Does your internet browser seem different?  Are there extra unwanted toolbars, adverts and add ons?  These are all signs of spyware on your computer.  Are alerts happening when you turn your computer on or at boot up?  These are all signs on spyware and adware.
These types of malicious software are designed to be difficult to remove, with parts hidden and often re-appearing as soon as you have removed them.
Caversham Computer can assist with cleaning your computer, for both laptops and desktop PC's to remove spyware, trojans, adware, viruses and any other unwanted programs.
Take control back of your computer.  For help cleaning your computer from viruses, spyware, adware and any other issues please call Caversham Computers on 0118 321 3562 or email contact@cavershamcomputers.com
Phone: 0118 321 3562