Not ready for Windows 10 just yet?

The free Windows 10 update has now been out for a few months now, providing a free update to the latest operating system.  Many people have already upgraded their PC as the upgrade does not cost anything.
The update is great for casual users of home computers, laptops and tablets – however some people particularly business users may want to keep using the older windows 7 or Windows 8 operating system because it works well with all their programs, and prefer to retain a familiar set up.  Windows 7 will still be supported with updates from Microsoft until January 2020 so at the moment there is not a security risk in continuing to use it.
Microsoft are really pushing people hard to upgrade older PCs via windows 10 update. If you would prefer to stop your computer from upgrading to windows 10 during one of the frequent Microsoft windows upgrade cycles you can use a utility called GWX Control Panel to withhold the update.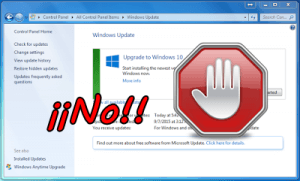 This program will adjust the registry of your PC and prevent the downloading of files needed to upgrade to Windows 10.
As always make sure you have a decent backup of your PC and its files before using the program.
If you need further help with upgrading to Windows 10, or anything else, please contact Caversham Computers.