Improving your Wi-Fi signal at home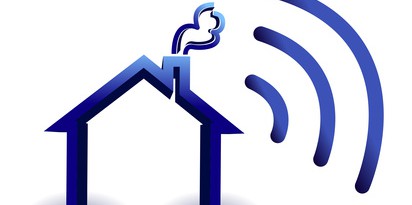 If you live in a larger home and have many rooms in your house, or if your home has solid brick walls, several floor levels or widely spaced rooms, then you may find that you have problems with receiving the Wi-Fi signal from your home broadband router in some parts of your home.
If you are unable to reliably receive a Wi-Fi signal in the bedrooms, upper floor levels or other parts of your home or if you suffer from dead spots, slow zones or drop outs on your Wi-Fi signal, we can provide a solution.
Caversham Computers can create a seamless Wi-Fi network providing coverage and a great signal throughout your home. This upgrade will give you the freedom to enjoy the use of your laptops, iPad's, tablets and other devices whilst you are in any area of your home, and even garden or home office if required without degradation of Wi-Fi signal. The new Wi-Fi set up can also provide a solid and reliable connection for games consoles, smart TV's, wireless printers and any other wireless network connected devices. If you have a wired device, we can also connect this too.
We can set up using your existing BT, ADSL, Infinity fibre or Cable internet connection from providers such as TalkTalk, Sky Broadband, EE, Virgin Media and many more broadband providers, including satellite broadband. You won't need to change your broadband provider, and generally won't need to replace your router. Our Wi-Fi installations are neat and tidy, free of trailing cables, and can be discreetly installed. We avoid having to drill holes or run cables wherever possible.
By visiting and completing an initial Wi-Fi survey at your home we can install a bespoke system optimised for your property. We do this by planning location and frequency of all parts of the wireless network and minimising interference which ensures the fastest speeds and most reliable connection. By doing so, we can install a faster more resilient wireless network than by using the usual self install Wi-Fi extenders or repeaters . Did you know that most Wi-Fi extenders actually only provide half the speed and bandwidth on the repeated signal? Our system gives full speed everywhere.
One Wi-Fi network, one Wi-Fi password, seamless coverage throughout your entire home.
If you would like help with your home network or Wi-Fi signal please contact Caversham Computers, we'll be happy to pop round to discuss your requirements and advise how we can help.