Getting the most from your internet connection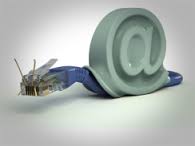 Nearly everyone now a has broadband internet at home, to many people it has become as important as the conventional utilities in your home such as gas, electric and water.  But what if you turned the tap on and it only trickled out?  Would you be happy?
The same applies to your internet, are you getting the full flow, or are you on a go slow?
Many factors can affect your internet speed, including the speed of your connection through the line to your house, especially with ADSL through a copper BT phone line.  We can ensure that you are getting the most from your internet connection, assessing your equipment, wiring and configuration to ensure you are getting the fastest and most reliable connection.  Does your internet seem slow?  Does your internet connection drop out?  The UK's average internet speed (as of November 2012, source Ofcom) is 12Mbit/s.  What are you getting?  Find out at Speedtest.net web site.
Once your internet is running at optimal speed, we can assess your home or business network (your wireless router is a network!) to ensure you have the wireless coverage around your house that you need, whether you use it for working from home, laptops, desktop PC's, iPads, tablets, smartphones or even internet connected smart TV's and bluray players.  We can also set up wired and wireless connections for you, wherever you need them.
So if your internet at your home or business is slow and frustrating, get in contact and we can pop round to help!
Email: contact@cavershamcomputers.com
Phone: 0118 3213562
https://www.cavershamcomputers.com