Customer Focus – 360 Commercial Environments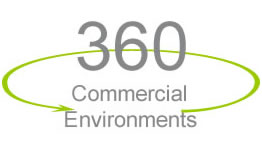 At Caversham Computers we realise how important it is for your business to ensure that its computers and IT equipment are working reliably and efficiently. We also understand the major impact it can have on your business and customers if your office encounters a computer, network or IT failure. We provide complete computer, network and IT support for small businesses in Reading and the surrounding areas of Caversham.
One of our valued business customers is 360 Commercial Environments in Sonning Common near Reading.  360 Commercial Environments have over 30 years experience of providing building and maintenance services, from property maintenance through to full refurbishment and fit out with clients such as NHS, Honda UK, DHL and Freshwater all regularly using their services.
As a company we rely heavily on our IT systems and only really appreciate how much when it falls over.  This is where we came across Caversham Computers having had all sorts of problems with emails, servers, UPS and the dreaded passwords.
James from Caversham Computers arrived promptly following our call for help and immediately put us at rest with his IT skill and knowledge.  James saved us a fortune and our sanity by hosting our own email accounts on our upgraded server.  The ongoing maintenance and superb same day service when required along with remote assistance has been a revelation at a very reasonable cost.
I can highly recommend Caversham Computers for an honest competitive service and look forward to many years working together.

John Goldsmith, Director
360 Commercial Environments Limited
http://www.360ce.co.uk
To find out how Caversham Computers can help support the computers and IT requirements of your business, please contact us to arrange an informal chat, we're happy to pop in to visit you.