Cloud computing for your business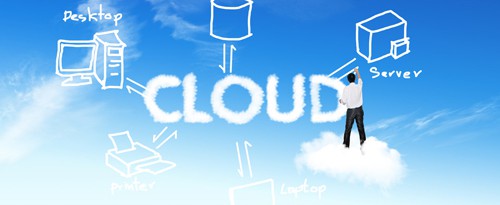 Cloud computing for your business
There is much hype at the moment about cloud computing. In an article in the Guardian by Guy Clapperton he states that the IT industry thrives on hype. Do you remember the run up to the year 2000, where all computing was destined to grind to a halt? Of course, it didn't though did it? Sometimes the hype does predict the real trends though, as many of us have adopted the use of tablets, as well as cloud computing.
So, you may be wondering if cloud is right for your business, and it isn't an easy consideration for many. There are myths and misunderstandings, along with genuine considerations that need to be addressed before migrating any business to the cloud.
Security, speed, reliability and functionality are all important factors – as well as which provider you choose to use and what the cost will be.
There are many things that the cloud can do, such as collaborative file storage and sharing from providers such as Dropbox, SugarSync and others. There are also cloud hosted email platforms, such as Gmail, part of Google Apps for Work, and Microsoft Exchange online.
Businesses can choose to migrate everything to the cloud, or they can keep elements in house as there are some specific reasons why they may wish to do so. For some businesses, they may wish to move everything to the cloud at once.  But for other businesses, for example where they cannot get a superfast or reliable internet connection, it is not always practical to move their entire set up to the cloud.  For example, a business may wish move their email to the cloud, but retain local storage of their data on a file server, whilst using a cloud service to back up that data off site. The benefit of this would be retaining faster access to the file storage and file sharing in house, but with the benefit of the data being backed up off site, so that in the event of a disaster, for example a fire – the data is securely held elsewhere.
It is easy to forget that many of us are essentially using the cloud already anyway. In Guy Clappertons article, he states " There can be a number of reasons to opt into cloud computing, not least of which is that by now almost everyone has experience of it. Have you used Google Docs? Gone on to the Facebook site? If so, you've accessed someone else's data from your own computer using the internet and, therefore, used cloud computing."
Trunki, the children's luggage manufacturer took the step over to cloud computing for their IT. Initially using Gmail, and subsequently Google Apps
Phil Bagnall, Trunki's head of operations, told Guy that the main reason for opting for cloud was that the company didn't want to run its own internal IT department as it grew.
"We're 90% on the cloud now. After Google Apps we expanded into Box for file storage and to share documents with customers across the net, and at the end of 2012 we started using NetSuite for finance and enterprise resource planning."
Phil Bagnall is of many to bring cloud computing to their organisation. Cloud computing is not just about costs, a good provider of cloud services will offer new services and updates seamlessly to users, and will work well on many platforms, be it desktop, mobile or tablet. Moving to cloud computer can also reduce the cost of purchasing software for your workstations and devices, since many cloud applications will then run inside a web browser, instead of having to be separately purchased for each computer it is used on.
Cloud technology isn't just a new way of computing. It can bring many benefits to any business. Caversham Computers can get your business on the cloud, whether you are a new business, or you have legacy systems, email and data that you like to migrate to the cloud – we can help. If you'd like to discuss how Caversham Computers can help you implement cloud technology for your business please contact us to arrange a no obligation chat.